FIGHT ANNOUNCEMENTS!!
TICKETS ARE AVAILABLE FOR OUR NEXT EVENT!
ART OF WAR- 2300 ARENA- PHILADELPHIA
SATURDAY FEBRUARY 8 2020
SHAWN STEFANELLI VS JAVI GUZMAN- LIGHTWEIGHT TITLE FIGHT
UFC FIGHT NIGHT 169
SATURDAY FEBRUARY 29 2020
SEAN BRADY VS ISMAIL NAURDIEV
NORFOLK VA
Kids MMA Program!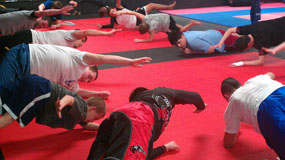 Our Future Champs Kids Class continues to provide a safe, healthy and fun way to introduce your children to martial arts with a Jiu Jitsu base.
Schedule Updated!
We have updated our schedule, see the new days and times here.
About
Grindhouse MMA & Fitness, since late 2007, has its roots as a "MMA fight club" based in Warminster, PA. After a few months of training fighters in the "Centrifuge" at the former Naval Air Development Center, Grindhouse MMA & Fitness moved to B&R Family Fitness Center in Feasterville. We enjoyed a mutually beneficial and long-standing relationship with the owners of B&R, but in 2015, Grindhouse MMA & Fitness moved into its new home at The Sportsplex, also in Feasterville. In 2017, We moved back to our "home" at AFC Fitness in Feasterville, once known as B&R.